WELCOME!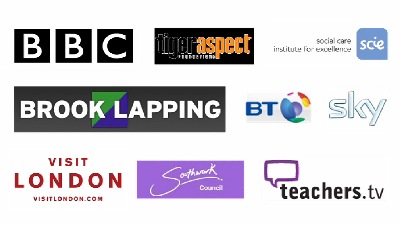 Ed has edited for companies such as the BBC, Sky, Maverick TV, Curve Media, Tiger Aspect Productions, Dot to Dot Productions, Sixth Sense Media and Twenty Twenty.

Recent projects have included both the CBeebies BAFTA award-winning children's observational documentary series Our Family and their sports series Footy Pups. Additionally Ed has worked on the CBBC children's art series Art Ninja and their long-running medical series Operation Ouch!, and the restoration series Salvage Hunters: The Restorers for QUEST.

Ed has also edited documentaries and educational dramas for Brook Lapping, TV promos for CBS Drama, an infomercial for BT Vision, promotional films for Canon Europe, a short 3D corporate film for Bird Studios, Visit London's promotional material for the 2012 Olympic Games and Cartoon Network's international game show Ben 10 Ultimate Challenge.

Ed is experienced in both long and short form and in the development of new programme formats alongside producers such as Real Estate TV's Buyers' Guide To… and Focus series.

Ed edited the acclaimed, multi award-winning short Rifts and the 2007 Kodak Short Film finalist Broken, each directed by Vicki Psarias nominated for Arts and Culture at the Women of the Future Awards 2008. The films have been screened both theatrically and on television internationally.

Until early 2001 Ed was employed at The Money Channel editing its varied factual and current affairs programme output. Work here was both fast paced and exciting, with exceptionally tight deadlines and strong creative demands.

Prior to this Ed was a Junior Editor and 1st Assistant at a London based film editors. Here he worked mainly on commercials, pop promos, and various television programmes, as well as experiencing the many facets of post production.

Please explore this site for a list of Ed's credits, employment history and experience, to see his showreel and if you wish to contact him.

Thank you for your interest.

"Ed is able to work for extended periods unsupervised, demonstrating both initiative and good problem solving abilities. He is a very safe pair of hands, but at the same time imaginative which I've found is a rarity in a lot of editors"

Jo Killingley, Managing Director, Dot To Dot Productions

''Ed has been our first choice freelance editor at Real Estate TV for the past 5 years. One of Ed's strongest points is that he can tackle creatively and efficiently all forms of content from promos to commercials, advertorials and corporate videos to editorial programming. His creative input and ideas are always valuable. He also works well with all our freelance directors and producers and deals very well with clients who like to sit in on edits.''

Caroline Willis, Former Head of Production, Real Estate TV

''I've hired Ed a number of times from editing short form promotions, commercials for FTSE 100 companies, long form programmes, and corporate work. His experience and knowledge is second to none and his dedication to get the best results are astonishing. Ed goes well beyond the call of duty when required and can be left to get on with the job in hand when I was working on other projects. I have no hesitation in recommending Ed in the slightest for any broadcast or corporate project.''

Ed Scott, Senior Producer / Director, Shameless